An Overview of the Walt Whitman Museum
The Walt Whitman Museum is a historic site located in New York.  It was first declared a historic site in 1957.  This museum allows you to basically hear the voice of Walt Whitman to this day, and you can really take a look into his vision of democracy, creativity and diversity.  They have various programs, including education programs for young poets, and poets of all ages for that matter.  It is a place where poets and writers can get inspiration that will follow them for the rest of their lives.
Who is Walt Whitman?
First, we will take a look at Walt Whitman, and who he was in history.  He was a poet that was born in New York in May of 1819.  He starting writing poetry at an early age, and he made journalism a full time career in 1841.  He continued writing through 1859, and has written many authentic pieces.  His most famous work was a collection of poems called 'Leaves of Grass'.  In this collection, he has been able to inspire a lot of poets and writers, and thus has made his mark in literary history.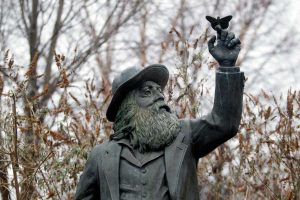 About the Programs
There are several different educational programs for you to consider at the Walt Whitman Museum.  For Pre-K through second grade, they offer the 'See and Touch' program.  This will allow them to tour the home and learn more about the life of Walt Whitman.  They can also play games.  For children in grades 3 through 6, there is the 'Explore' program.  This program allows children to experience view and discuss various exhibits throughout the museum through an interpretive tour.  In the 'Create and Explore' program, children in grades 3 through 8 will also get to go into the poetry writing workshop to learn more about writing so that they can enhance their skills.
A more advanced program is available for grades 9 through 12, where students are able to tour the museum and look in-depth at everything they have to offer.  They can also learn how to express their feelings through words, which is really an added bonus.  Finally, you have the 'Discover' program, which is basically the program that is designed for people that have special needs.  It turns learning into fun, and can be customized to meet their specific needs.
Becoming a Member
If you would like to become a member of the Walt Whitman Museum, you can do that as well.  This allows you to get a 10% discount on purchases made in the shop, and also gives you free admission to the museum.  There are various types of memberships, including individual, student and family.
Scheduling Your Visit
If you would just like to visit, you can schedule your visit in advance to ensure that you have the best possible experience.  You can call them at (631) 427 – 5240.  You can also take a look at their upcoming events by going to their website at www.waltwhitman.org so that you can see what they have going on.