An amazing indoors way to celebrate the beautiful fall weather is to stop going for apple picking and just making a delicious, mouthwatering pumpkin pie. It's just so much better than hayrides and roasting some s'mores. Moreover, you could not have a tastier treat for after dinner, enjoying some Sunday night football than this out-of-the-world recipe. And it's simple, without any special ingredients, hassle-free, and it's just perfect! This recipe is great for true pumpkin pie fans who want the very essence of the pumpkin flavor, the spice and a bit of tanginess without anything else getting in the way!
But Why is This Pumpkin Pie Recipe Great?
There are a couple of reasons why this pumpkin pie cake recipe will become an instant favorite and fall staple at your household. First of all, the pie will be packed with a concoction of wonderful flavors along with two big cups of pumpkin puree. In addition, you are going add all the best fall ingredients in your kitchen, such as cinnamon, allspice, nutmeg and ginger.
The cake will turn out super moist, like sticking to your fork! To make it even more delicious you are going to add a mouth watering, smooth and silky cream cheese frosting. Lastly, because the cake is single layer, you can easily pack it take to parties, game nights, tailgates etc.
The Pumpkin Cake Recipe
The recipe is quite straightforward and you can't go wrong with it. If you have ever baked a spice cake before, the preparation is similar to that in terms of texture and taste. Plus you are not going to need more than two bowls! However, even if you haven't baked in a while, this recipe is still easy than a ton of others!
Let's go over the ingredients and then the method.
As mentioned, the ingredients are simple and easy, it's a homemade cake after all.
Here is what you are going to need:
Flour – (Go with all-purpose flour) because the cake already as a thick and wet batter.
Baking Powder and Baking Soda – Common household ingredients that help the batter rise
Cinnamon and Spice for the Pumpkin Pie – These are necessary ingredients to make the cake. You can prepare the spice at home by adding half a teaspoon of ground cloves, ground ginger, ground allspice and ground nutmeg. Don't forget to add half a teaspoon of cinnamon.
Vanilla and Salt for Added Flavor – You can add salt as per taste and buy the vanilla extract from any local grocery store.
Cooking Oil – Layer the base of the baking pan with an even spread of cooking oil to make the base of the cake smooth and moist.
Eggs – Add 2-3 eggs for the structure of the cake.
Pumpkin – Along with 2 cups of fresh pumpkin puree, you will need to add 1 regular can of pumpkin. Use the entire content of the can to avoid waste.
Sugar – You can mix some brown and white sugar for taste
Instructions: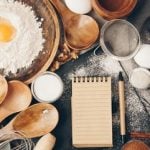 Take two bowls
Mix dry ingredients in one bowl
Mix the wet ingredients in the other
Mix both the dry and wet ingredients together
Take a 9 x 13 baking or cake pan and pour the mix in, spreading evenly
Bake it
Let it cool down for five minutes and then make the cream cheese frosting
Put the cake in your fridge for 30 minutes
And voila, it's ready for eating
There you go – everything you need to have and know about how to bake a wonderfully delightful pumpkin pie cake.