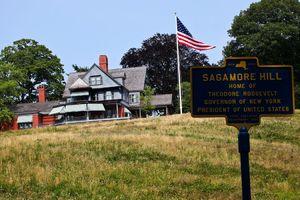 Sagamore Hill was the home of Theodore Roosevelt, 26th President of the United States, from 1885 until his death in 1919.  The construction of the 26-room home was started in 1884 and completed in 1885 at a cost of $16,975.00, which equates to $452,478 today. The actual location is 12 Sagamore Hill Road, Oyster Bay, NY 11771.
The house and its surrounding farmland became the primary residence of Theodore and Edith Roosevelt for the rest of their lives. Sagamore Hill took on its greatest importance when it became known as the "Summer White House" during the seven summers (1902–1908) Roosevelt spent there as President. Roosevelt died at Sagamore Hill on January 6, 1919, and was buried at nearby Youngs Memorial Cemetery.
In 2011, the Historic Site underwent a $10 million restoration. The character of the home comes from its collection of original furniture and artifacts, numbering more than 12,000 distinct items including an extensive collection of artwork as well as Roosevelt's 36 pieces of taxidermy. "This home is unique in that what you see inside is 99 percent original," says Sausan Sarna, Museum Curator at the Sagamore Hill National Historic Site. "The only things that aren't original are the curtains, because they're organic and fade."
If you always wanted to see the magnificent house but have not been able to visit, you are in luck, as a new online collaboration will allow you to view the home online. Just this week, on March 22, 2017, a new collaboration was introduced between Google and the National Park Service curatorial staff, who have produced online tours and exhibits of the beautiful grounds.
Highlights of the online tour include: A silver tea service owned by Martha Bulloch Roosevelt; Spurs and a branding iron Roosevelt used on his cattle ranches in North Dakota; and, a wastebasket made from an elephant foot, possibly from his African safari.