Yes, they do! Kids of all ages delight in a day at this multi-faceted Melville facility! It's a real working farm and a whole lot more.
It has a petting zoo. It offers pony rides. It hosts kids' parties, and educational outings. White Post Farms has seasonal festivals that feature the likes of hayrides, or pumpkin picking, and food. Families flock here for a fun-filled day. Classroom groups get amazing opportunities to see rare and endangered animals, get up close to exotic birds in the Farms' free-flight aviary. Kids can learn how a seed grows to becomes a flower (they get to plant and take home seeds of their own too!),  they can also lean about like other things, sluice 'mine rough' (soil from the Farms' mine) for gem stones, arrow heads and fossils .
Located at 250 Old Country Road in Melville (and online at www.whitepostfarms.net), this highly-popular place also has a lip-smacking Market filled with fresh pies, gourmet breads, sandwiches, salads, sushi, smoothies and more. Many of the best-of-the -fresh ingredients come right from the Farms itself.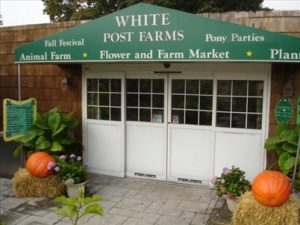 Though the name White Post Farms dates only to 1971, the farm itself has been a Long Island staple since the 1880's. And it truly was a staple, not just for the founding Brigati family but the area. During the Depression, when Long Island was heavily depended on the crops grown here because food from elsewhere was scarce and expensive. A wide range of produce was grown at the farm, from potatoes – the largest crop – to tomatoes, cabbage celery and onions. By the 1950's, many of those were being distributed to grocery stores. Since 1964, they've been offered on the family's farm stand, which has evolved through the years to become today's Market.
The 1960s also saw the erection of greenhouses for growing flowers and vegetables.  By then, the farm was becoming a destination for 'foodies'.  With two decades, it was also becoming a destination for people seeking a close-to-home 'farm experience' By the 1990s, the family was really growing the number of reasons families and school groups wanted to come.
Along the way, the Brigatis grew their support for local organizations by sponsoring fund-raisers. That's now an important part of the family's mission – as is providing an exciting, entertaining destination for the young and the young at heart.