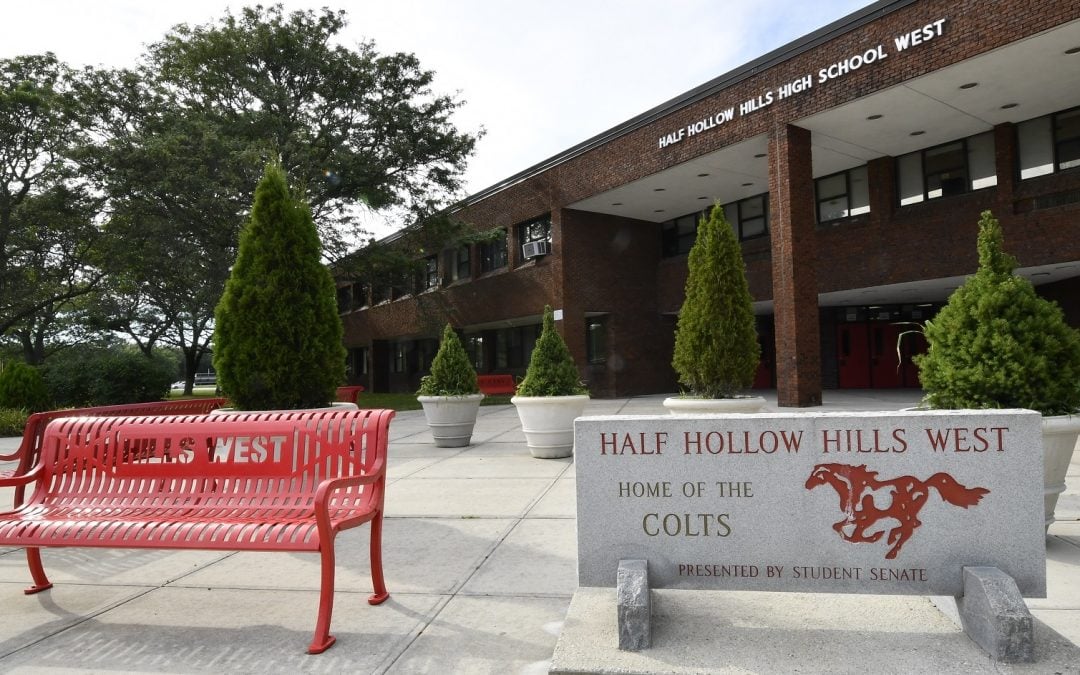 HHH: A Heck of a (Great!) School District
Residents in Dix Hills and other communities served by the Half Hollow Hills School District have a pretty good idea how fortunate they are when they look at two pages on the District's web site:  The 'Our District' page http://www.halfhollowhills.k12.ny.us/page.cfm?p=975292 , and, under the 'Students' tab, http://www.halfhollowhills.k12.ny.us/page.cfm?p=976447 the section entitled "20 Strategies to Manage the Stress of Returning to School".  Presented by 'The Institute for Traumatic Stress', this list is packed with practical advice in terms students can relate to – or, at the least, understand.   The first tip tells you where this list is going:  'Stop texting and start talking. Share your thoughts and feelings with your family and friends, face to face'. Down-to-earth. Hard-hitting. With the 'Let's Get TO It' attitude that could be the District's motto.
And that the students and staff do 'get TO it' is exhibited clearly on the 'Our District' page, which spells out how thoroughly HHHSD fulfills its mission statement: "An education-oriented community with high expectations for its schools". A list of ten outstanding achievements, most of them just reflecting the most recent school year, describes how the kids have excelled and how the District has: Way above average achievements in art and mathematics dominate the list, but another emphasis on the District's real-world ambitions is the announcement that Mandarin Chinese is offered not only at the high school level, but it's being initiated at the middle school level – giving students the opportunity to improve their efficiency, over at least five years,  in an increasingly important language.
The District, which serves 10,000 youths, comprises seven elementary, two middle and two high schools. Both of the latter placed in the Gold Division of the 21,000 ranked high schools across the country by US News & World Report. The 'Best High Schools of 2013' report is, like every year's, highly regarded both by high schools themselves and by higher-learning institutions.
What about educational offerings? What's the course mix at the high school level? 'Got a few minutes? The 'Course Offerings" section http://www.halfhollowhills.k12.ny.us/uploaded/User_Folders/hseguidance/2013-14/HS_Course_Book_(final_2)13-14_(4).pdf#page=9   of the web site is 75 full pages long! It includes 26 Advanced Placement opportunities as well as "several personal enrichment electives in the five core subject areas".
Among the many very impressive features of the Course Book is the description of the Half Hollow Hills Business Academy. Its 'academic, leadership and project-based components' are designed to prepare students "to begin an advanced degree in a competitive college environment".  The Academy focuses on 'interactive communication, collaboration, global awareness, financial literacy, digital literacy, problem-solving and critical-thinking skills'. This is not your granddad's high school!
You could spend hours strolling through the vast landscape of the HHH School District's web site – working up a good appetite as you do so. No problem! Get all kinds of good-eating advice on the nine (count 'em!) 'Lunch Program' pages (under the HHH tab).  Not just menus, but advice on nutrition – in downloadable files, in specific types of foods, including snacks, healthy snacks and yogurt and frozen soft serve items – and an equally information-packed allergen  page.  And in addition to the menus for the elementary, middle and high schools, there's also a 'Build Your Own Lunch' section!
Whether you're a newcomer to the area or a well-established resident, you should be proud that your kids (or grand kids) have access to such a thoroughly modern, highly imaginative school district, where their success is everyone's mission.