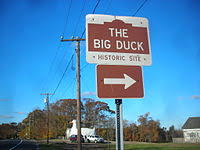 Have you ever noticed a the big white duck roadside on your way to our East End during the summer months? To most, that duck is a fun roadside attraction, however in the early 1930's the duck served a great purpose.
The Big Duck located in Flanders, New York is a ferrocement building originally built in 1931 and was ad
ded to the National Register of Historic Places in 1997. Owner Martin Maurer first had the building constructed in 1931 in a prime spot on Main Street in Riverhead, New York, which was used to sell ducks and duck eggs. Unfortunately Maurer is now past, and the Big Duck has shifted locations a few times. After moving from Riverhead, to Hampton Bays, in 2007 the Big Duck returned to its origin
al spot in Flanders.  The shop still operates as a tourism center for the East End of Long Island, selling duck souvenirs.
The Big Duck is open year round, and is involved in events throughout the year. The biggest holiday tradition for the Duck is the annual lighting of the Big Duck which takes place the first Wednesday in December each year, and remains lit through January. Last year's 2016 Annual Lighting of the Big Duck was the 26th year for this festive event.
Friends of the Big Duck, a not-for-profit organization is dedicated to preserving the history of this National Landmark. For upcoming meetings or to get involved with this non profit organization you can visit their website: http://www.bigduck.org.
The Big Duck is located at 1012 Flanders Road, Flanders NY, and is open daily from 10am-5pm. For more information on the Big Duck and upcoming events you can contact (631) 852-3377.