One of the most famous ballparks in the US, Bethpage Ballpark, is in Suffolk county, New York. Boasting 6,002 seats, it is an avant-garde facility that the Long Island Ducks proudly call their home. Bethpage ballpark opened for business back in 2000 and saw a staggering reception of fans and games throughout. Since its opening, the ballpark has welcomed more than seven million fans and has experienced a sellout more than 670 times.
Among a slew of the ballpark's modern amenities and features, the place offers twenty luxurious VIP suites, a huge restaurant bar with a 126-seating capacity and a batting tunnel indoors.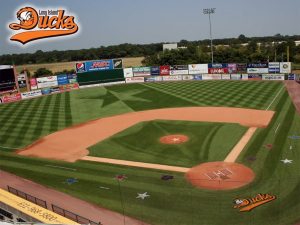 Before the ballpark was fully constructed, the management decided to name it Suffolk County Sports Park. However, during the same year, the EAB, short for (European American Bank) bought the naming rights. They renamed the stadium "EAB Park" when it was inaugurated in 2000. However, in 2001, the name was changed again when Citibank bought the stadium from EAB. And in 2001, it was renamed to Citibank Park.
In 2010 however, the BFCU (Bethpage Federal Credit Union) invested in the ballpark and became increasingly involved. With the agreement, the BFCU changed the name of the stadium from Citibank Park to Bethpage Ballpark. Moreover, the BFCU has the rights to the name of the stadium.
Fast forward to 2017, Steve Bellone, who was one of the Suffolk county executives, and was also the representative of the Long Island Ducks as well as the Department of Public Works, proposed an innovative plan to revamp the stadium's lighting system. He introduced the LED field lighting integration for Bethpage ballpark.
With LED-powered lighting becoming the primary source of lighting in the playing field, the 2000-watt metal Halide bulbs which were used since the ballpark's inauguration, were removed. This was a great idea when you talk about energy savings. Not to mention, the new LED lights offered better illumination for both fans and players.
Furthermore, enhancements like getting Kentucky Bluegrass for the playing field and revamping the luxury VIP boxes, and more enhancements to the restaurant bar were done in 2017. The Bethpage ballpark has been home to more than a thousand mainstream events since 1999. The ballpark welcomes all manner of sports events such as lacrosse, professional soccer, charitable concerts and events, corporate seminars and events, high school baseball, youth clinics and camps, Freedom Fest concerts, three Atlantic League (All-star) games in 2002, 2010 and 2018.
An independent and professional baseball team, the Long Island Ducks (a.k.a Quacker Jacks) forms a major part of the ALPB (Atlantic League of Professional Baseball). The team was named after the animal primarily because duck farming was a major industry in Long Island.
The ballpark is located at 3 Court House Dr, Central Islip, NY 11722, USA.